Post by Han_Solo on Aug 11, 2008 23:16:44 GMT 8
This is a quick bullet review of the CA SA58 Carbine.
Initial impression:
-SOLID
-Not really that heavy
-Old school rifle ergonomics
-Nice even finish on the metal
-Authentic DSA markings
Findings:
-Small wobble in the fore grip
-Magazine wobbles a bit in the mag well, but magazine slides freely, provided that you cleaned up your wiring upon assembly.
-We are yet to see if the bolt drop mechanism is gonna hold.
-FN style grip is good for bigger hands
-Stock nozzle is a tight nozzle w/ an O-ring & solid circle instead of a "cross" on the nozzle tip. Assuming all leaks are sealed, it has really good compression.
Pro's:
-Durable V3 Gearbox
-Rifle is well balanced
-Good stable hop design
-As far as I can tell, there is ZERO barrel wobble.
-Quick take-down. 2 thumb screws & an Allen screw on the bottom grip, you are in the Gearbox.
Had a chance to upgrade Classic Army's new aeg, the SA58 carbine.
Fine looking piece of equipment, with custom flashider
Metal finish is good CA style, it doesn't seem it may chip anytime soon.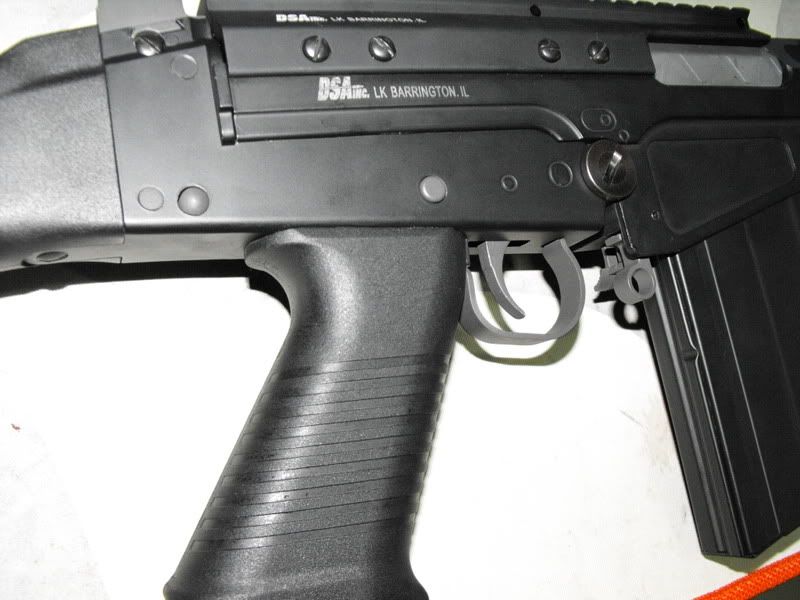 Mag inserts fine & there is some play, not to the point annoying. You can also see the "thumb" lock/screws that secure the Upper & Lower receiver. These screws(2) have O-rings inside so it would have pressure fit when you screw it tight.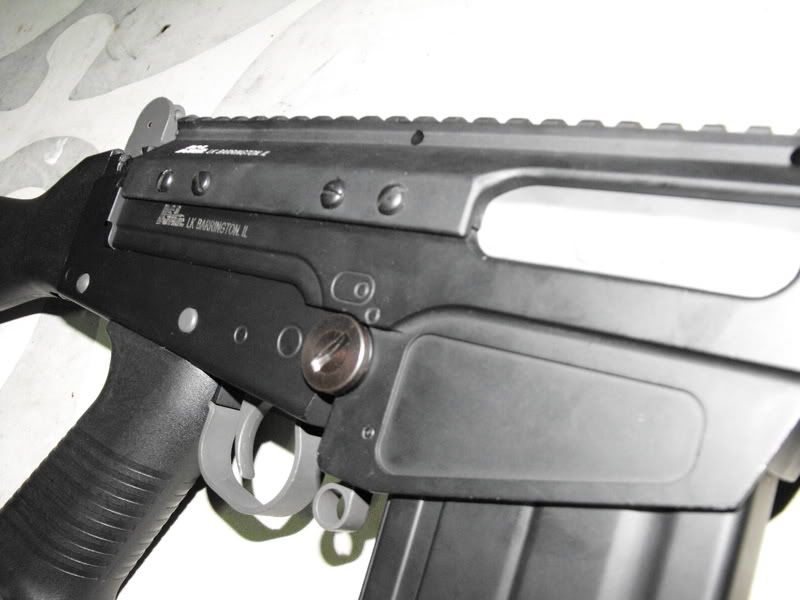 One of the first things I check after eyeballing the alignment of the entire gun is the selector switch. Selector switch on the SA58 is notched with a very firm but smooth click, a very nice positive feel.
Take care of the Bolt. Though it's nice hearing it drop, it has a tendency to overshoot the lock when you drop it. You'll know what i mean.:icon_biggrin:
CA plastic? is probably one, if not the best in the business.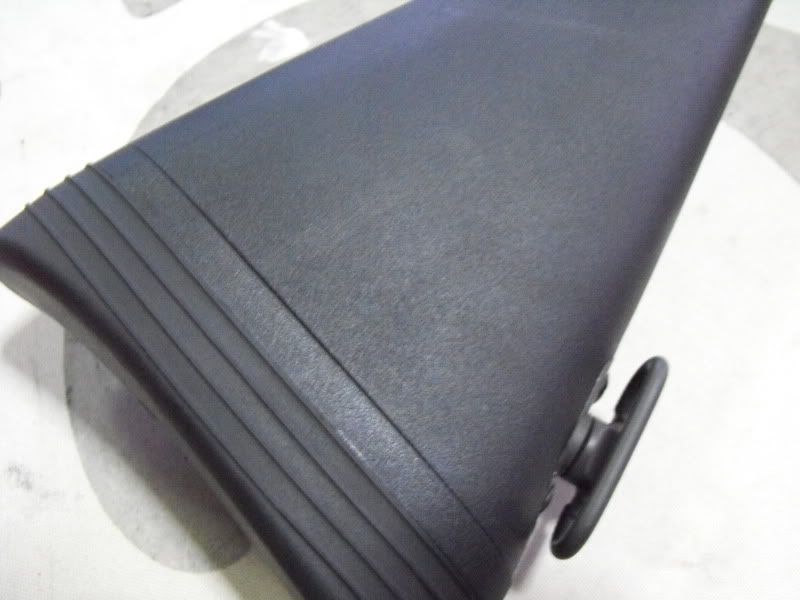 Classic rifle lines.
There was some play in the fore grip, it was very minimal & you can live with it. Also note the barrel assembly.
The only sign of Classic Army. You can also see the Allen head screw, last screw to get to the Gearbox.
Upgrade parts:
CA STU flat gears
ELEMENT V3 spring guide with bearing
GUARDER SP120
SRC piston head with bearing
CA Type 1 cylinder
Shredder Concave Spacer
All else stock
Shredder Concave Spacer. Never Leave home without it.
This carbine length(guessing 330mm) comes with a stock type 0 cylinder, so I changed it with a type 1. Stock spring guide was plastic. CA should have at least included a metal spring guide.
CA V3 Gearbox with stock 7mm Metal Bushings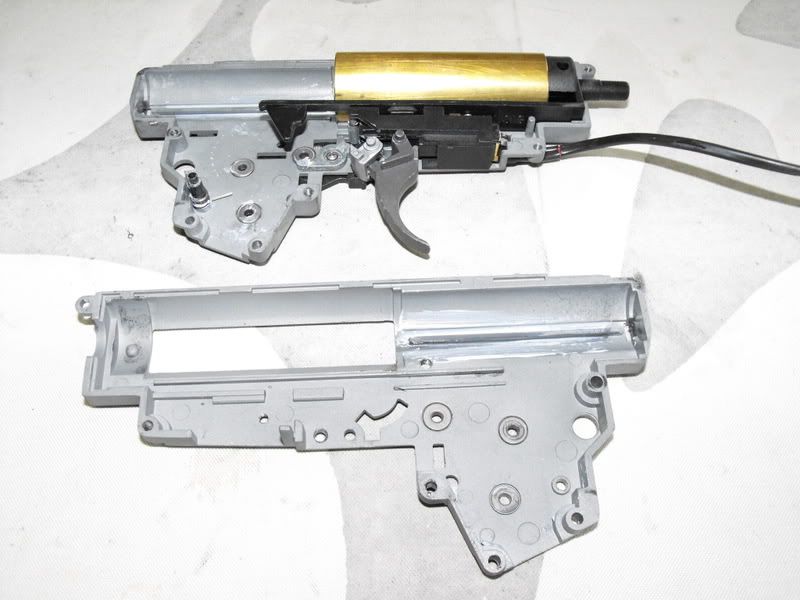 CA gearbox has good quality metal & clean, even build.
Metal hop chamber. The finish is different on this metal compared to the gearbox. Gearbox metal has a better finish. The chamber itself doesn't have a lock.
The hop design of the SA58 bear semblance with the SIG hop. This hop as you can notice, does not have any springs on it.
It is cradled in the upper receiver & LOCKED solidly into place when you assemble the gun.
Thru the ejector port.
Port closed
Wiring placement should be followed to the hilt when you re-assemble it. Assemble it exactly the way it was before. We ran into problems & had to dis-assemble the aeg couple of times coz' we thought the wiring was already good to go.
Also note the type 1 cylinder, the stock cylinder was type 0, for carbine lenght 300-363mm, i prefer type 1.
Compare this pic with your GB, the red wire should be inside the groove. This how NOT to install it.
SA58 Good to go.
Good shot of the grip, trigger & mag release.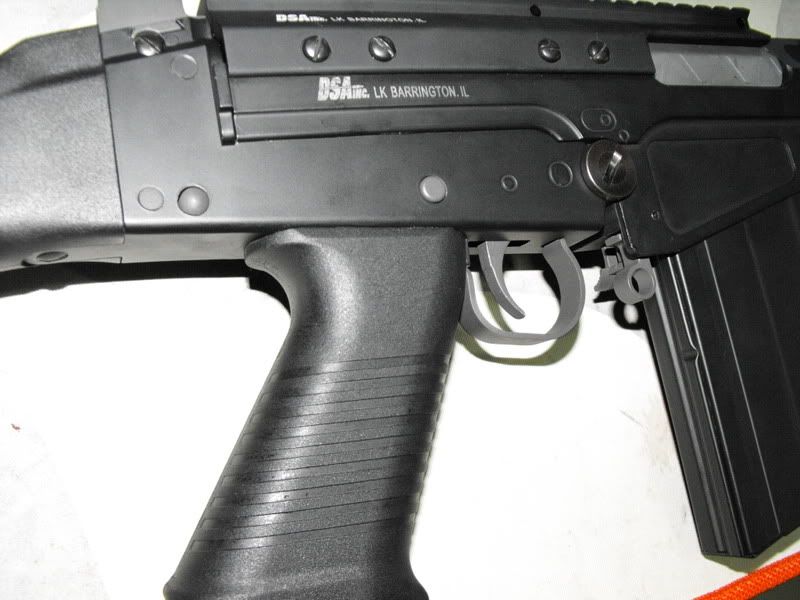 Very nice authentic DSA markings. I'm not sure if it is engraved, guessing more on laser etched markings.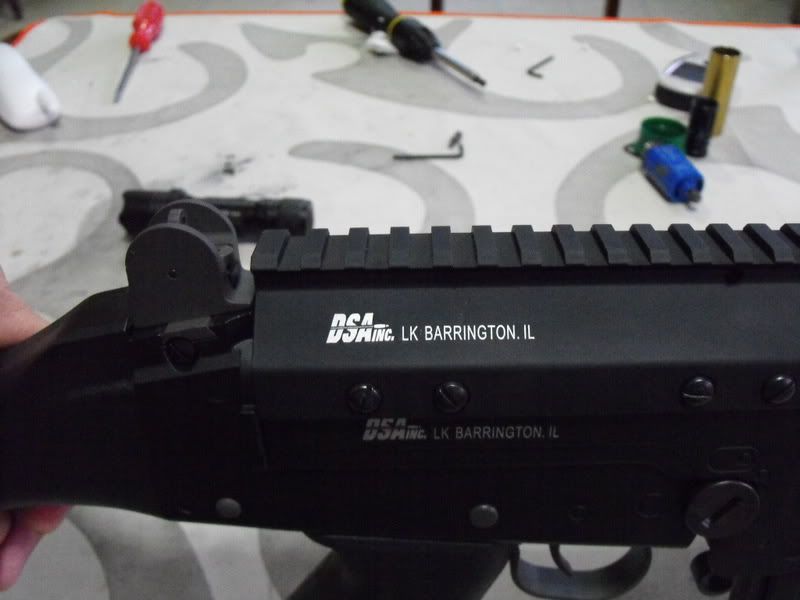 Unique serial number.
Alignment was dead straight.
Imagine it with,SCAR H flashider/suppressor combo(not Element but VFC), Magnified ACOG with diopter sights, 1round long mag. Good to go.
The sweetest part of this aeg is simply cocking it & hearing the bolt drop with a solid metal "tslakk".:icon_wink:
Hear the bolt drop:
Happy Owner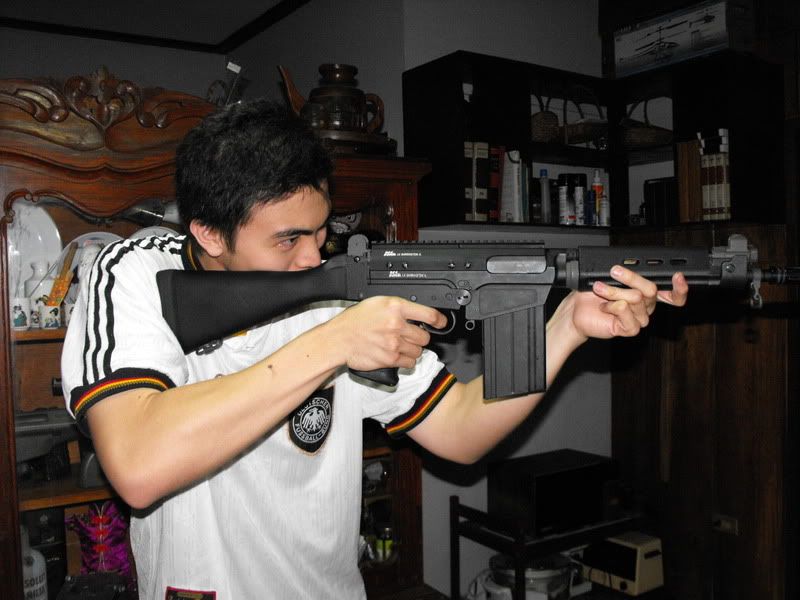 Contractor (gi contrata para mu galam sa pusil ;D)
*Chrono & performance review to follow.
Thanks for looking.
.